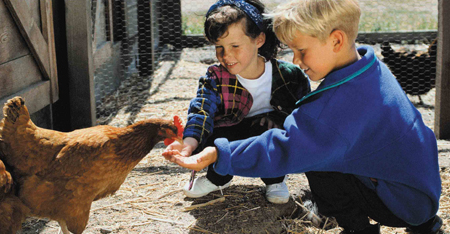 Gold Circle Farms eggs are produced by feeding our hens an all-natural vegetarian feed diet enriched with cold-water micro algae, which increase the DHA Omega-3 content to 150 mg of DHA per egg versus 18 mg in a regular egg. Research has linked DHA Omega-3 to supporting a healthy pregnancy, and is vital for infant brain and eye development. A three to four-egg omelet made with Gold Circle Farms eggs could provide the same amount of DHA Omega-3 as a three ounce serving of salmon. In simple terms, we believe that by paying close attention to the health of our hens and our environment, we are able to produce the greatest tasting, most nutritious eggs in the world!
Gold Circle Farms is a division of Hidden Villa Ranch who acquired exclusive rights to the brand in early 2002 from OmegaTech. Hidden Villa Ranch (www.hiddenvilla.com) is a producer, processor, distributor, and marketer. Hidden Villa Ranch is the only national distribution and procurement network in the egg industry. Gold Circle Farms eggs have national distribution and are produced using a network of farms across the United States that share in our dedication to produce the best quality eggs possible in an environmentally responsible manner.
Gold Circle Farms debuted in select markets in 1998 and now can be found in many supermarket chains and health food stores nationwide! If you do not see Gold Circle Farms eggs in your local supermarket or health food store, please request that they carry our product!
Click here for some of the most commonly asked questions.